I once was disgruntled… (guest post)
But once again, my God saved the day. (And my life)
So recently I had an epiphany. It wasn't anything that other people like me don't already know – and when I say people like me, I mean single Christian women who think they want to be married or know they want to be married. I realized that marriage is not the defining experience of a woman's life. I'll say that again in a different way…Marriage doesn't make a woman whole. Only God can do that.
But up to this point, I've been on a long journey in regards to marriage. I remember when I was about 16 or 17 I had a moment where I realized I wanted to be married. After that – graduating from high school, college, grad school and a few years in the Navy – I wasn't so sure anymore. In fact, at one point I was sure I didn't want to be married. But one day again, something inside me was telling me that wasn't it either. I wasn't walking with God, so I brushed it off and just moved on.
A few months ago, I was obsessed with
hearing God's voice
. I realize now that it was because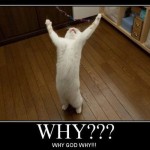 I finally had a relationship with Him. So one day in my prayer time with Him, He put words in my spirit that let me know I didn't know what the end would be for my life, but that He was going to see me through. But that still didn't quiet the restlessness in my heart. I finally broke down one day and told God "Okay…can you just let me know whether or not I'm supposed to be single or married? So I can at least know what I'm supposed to be doing?"
Well, He led me to
Isaiah 30
. And what He was telling me through this scripture was that the moment I could hand over to Him all these concerns and questions…that would be the moment I would be ready to meet my husband. I knew He was telling me that in order for me to enjoy and appreciate the marriage He had for me, I had to focus on Him and make Him first.
So for the next few days or possibly weeks, I'm going to write about my experience with this passage. I hope it blesses you wherever you are in your journey for preparing for God's earthly husband for you.